Still haven't finalized your holiday plans? Our list of best things to do in Tampa for the holidays is going to make your decision making process a lot easier. There's always going to be plenty of events going on in the Tampa area at any given time, but it takes a lot of work to sort through what's cool what isn't. Luckily for you, we've done the research, and read on for the best events in Tampa for Christmas and New Year's!
---
Snow Days at The Florida Aquarium
There isn't really a much better way to spend a day with your kids or your family from out of town than by taking them to the Florida Aquarium. If you head on over to the aquarium before December 30th, you can experience the aquarium's Christmas atmosphere. Aside from the obvious, the amazing variety of animals and sea creatures, they also have fun Christmas activities for the kids. They even have a real snow play area, animal encounters, diving elves and more. If you haven't already been, it's a perfect thing to do even after Christmas. https://www.facebook.com/floridaaquarium/
---
A Drag Queen Christmas at the Straz Center
Are you a regular at Hamburger Mary's in Ybor City? Or do you spend your weekend nights partying it up at the Honeypot? Well if you've ever been to either you might be interested in checking out "A Drag Queen Christmas" at the Straz Center on December 29th. There's no better way to hold onto Christmas for a few extra days than by celebrating with this hilarious show. The show is described as "It's a magical (and hilarious) evening of holiday performances featuring contestants from the reality television show on VH1." Go to the Straz website for more info and tickets https://www.strazcenter.org/Events/Straz/Shows/Rentals/A-Drag-Queen-Christmas
---
Tampa's Masquerade Bar Crawl with Party Bus
If there's two things that go hand in hand with New Year's eve, they are: dressing up, and getting drunk enough to forget that you didn't accomplish any of last years New Years resolutions. We love going to the annual Masquerade Bar Crawl each year, because it's a fun way to get a little dressed up (you know you're always trying to get your other half to get dressed up and go out) and still enjoy all the normal perks of a bar crawl! So grab some nice(ish) clothes from the closet, a mask, and hop on a Party Bus and enjoy an awesome bar crawl leading up to New Year's! https://www.eventliveus.com/event/masquerade-bar-crawl-with-party-bus- 
---
New Year's Eve Beach Bash at Rocky Point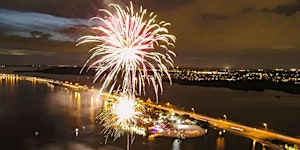 If you're not in the mood to get dressed up for New Year's and you just want to enjoy some fireworks, head on over to Whiskey Joe's! They'll have live music, a champagne toast at midnight, and plenty of fireworks after. This is perfect if you are looking for a chill way to ring in the New Year.
---
Roaring 20's New Year's Eve Party at District Tavern
In honor of 2020, come join us for this Red Carpeted, Roaring Twenties, Great Gatsby themed evening to ring in the New Year in style! The ticketed event will provide each guest with a free welcome shot,  complimentary champagne toast at midnight, heavy hors d'ourves, and Entry to District Tavern (after 10pm). So grab your twenties clothes and celebrate the new year at District Tavern with a red carpet, photo ops, live DJ, and more! https://www.813area.com/tampa/channelside/events/452000/roaring-20_s-new-years-eve-party.htm